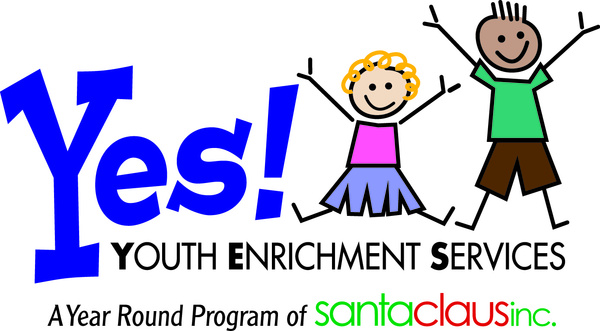 Santa Claus, Inc.
A Community Cares
SCI Presents Project: All My Own - Year Round Program

A Community Cares: Project All My Own shares the mission and vision of SCI to provide critical assistance to children in the Inland Empire by supporting and strengthening the family unit through our community based programs.
Purpose
The purpose of Project All My Own, is to give foster children who are exiting a hospital stay, a valuable back pack or roller filled with products that they can use, and are entirely all their own. This will include a blanket, underwear, shoes, clothing, socks, an inspirational or uplifting book, school supplies and a teddy bear or doll. Regardless of the age, but particularly for teens, foster children are typically moved from home to home. Many, if not most, lose their few belongings in these sometimes sudden moves. Providing them with a useful backpack or roller luggage gives them something more than a black-trash bag (which is how they typically carry their belongings). Adding a book and teddy bear personalizes the bag for each child or teen that is released from a hospital stay.
Need
SCI has been proudly serving as many as 55,000 kids each year. This is a number that has steadily been increasing each year without any sign of stopping. Our projections show that children living well under poverty guidelines will continue needing services and SCI's serving numbers will reach 100,000 within the next 12 to 18 months. Those are staggering numbers that pressure SCI to design new methods of service delivery. SCI's leadership is designing programs that address the most pressing of issues, and targeting sub-targets of children from the same pool that receive services during the Holidays. These specialized programs address the growing numbers of homeless families with children, and foster children of all ages. SCI has served and serves these specialized populations already and has devised new ways to identify more children living under these conditions. Project All My Own proposes to reach one very special population of foster children. Children who have had a hospital stay at Loma Linda University Children's Hospital (and other children's hospitals or wings are SCI identifies them).
Partners
The key partners in this exciting new project are Loma Linda University Children's Hospital and SCI's A Community Cares year-round outreach and distribution program. This partnership is key in launching this new project. Additional hospitals, including St. Bernardine's, among others will be encouraged to participate and to help SCI identify these important children and their needs.
Partnering with foster placement agencies may also be beneficial to the identification of this specialty population, and may help find additional children with needs that the program can help fill who may not have stayed at any hospital. For the foreseeable future, the program's target clientele are children who are being released from one of the partnering Children's hospitals. The program may expand to provide for foster children receiving care at any of the designated hospitals, giving SCI an opportunity to maintain a foster-children database and provide ongoing assistance to the children, including foster teens. Foster children are grossly underserved with social services. When finishing a hospital stay, partners have shared that many don't have shoes to wear on their way out of the hospital, clothing, hygiene products and/or a bag of their own. The point of On My Own is to provide something that is All their Own a bag/backpack filled with underwear and other useful clothing as well as hygiene and other products that will make the foster child's return to their foster home just a bit easier.
Services
The goal of "All my Own" is help foster children leaving a hospital stay with our first partner Loma Linda University Children's Hospital (other hospitals may be included after the launch of this pilot program). The services "All My Own" will provide include preparation of a new bag or back pack filled with clothes the child's size, as well as underwear, socks, shoes, personal hygiene items, a journal and inspirational or age-appropriate book and a teddy bear or doll, and a new blanket. The bag will be ready for the child's exit from the hospital and given to them upon their release. The services are requested by the hospital children's program who will contact SCI/All My Own and make sure that we have the right sizing for the child and the date and time needed to assure the bag or back pack is delivered in a timely fashion. SCI will maintain bags/back packs ready for the sizing of clothing. As space permits, clothing will be available at SCI's warehouse and a volunteer will come in to make sure the bag is filled with the necessary products and delivered or picked up for the foster child. Each child is identified by first name and first letter of last name. Demographic data collected will include age of the child, years in foster care, and if possible the number of foster homes the child has been placed in.
Process
The process for referral is to develop a streamline communication between Loma Linda University Children's Hospital and "All My Own". The Hospital contacts SCI/"All My Own" with the date and time of a foster child's release, and their clothing and shoe size. SCI then activates its program volunteers to prepare and pack a bag for the child including all the items noted above. This bag is then delivered by SCI volunteer or picked up by a LLUCH employee.
Security and legal restrictions prohibit collection of identifying data for the child. Demographic data is crucial to the operations and evaluation of the program. A simple form for referral (Appendix A) will be used for the referrals coming in from any of our partnering hospitals. The form identifies the child by first name, first letter of last name, age and other demographic data. This referral is either EMAILED or CALLED into SCI/"All My Own". After the referral is received volunteers jump into action and fill the order for the child. Projections estimate 2-5 children per week with up to 25 per month (per hospital). Expansion is key and assuring that all of the areas children's hospitals are identified and partnerships are established.
Funding
Funding for this program is provided through "A Community Cares". Special grants are being developed to fund the program's needs including back packs, underwear and shoes, new clothing hygiene products and general operating costs. These costs also include mileage reimbursement for volunteers, unless waived by the volunteer and used a tax write-off. Additional funding will be sought for using only new clothing (lightly worn clothing will be used for the start-up portion of the program). Funding may be shared through the "Back-to-School Backpack Program" to provide the actual bags and/or backpacks to be used for the personalized donations to the children.
Evaluation
Evaluation of the project is important to assure its success and potential growth. A simple survey is filled out by the referring hospital. This survey is available on
www.surveymonkey.com
and will provide data and responses on the delivery of the service, the quality and demeanor of the volunteer and the reception of the donation by the child. This data will ensure that SCI maintains the utmost professionalism and continuous quality improvements to the program. Data collected, including the demographic data for the recipient foster child, will be maintain and analyzed and subsequently reported in SCI's Annual Report.
Outcomes
The outcomes of this project are projected to be:
Serving 2-5 children per week
Serving up to 25 children per month, per hospital
Having a 90-100% satisfaction return on all surveys
Expanding the program to reach all local children's hospitals
CLICK HERE FOR DIRECTIONS TO THE SCI WORKSHOP AND GOOGLE MAP