Christmas Tree Lane
Santa Claus, Inc. sends many thanks to its great fundraising partner, Friends of Santa Claus, Inc., for hosting the fabulously beautiful 67th Christmas Tree Lane in December 2019.
" Silver Bells"
was a wonderful evening of beautiful designer Christmas Trees, good food, live and silent auctions, fabulous boutiques, and dancing to the sounds of Matt Mauser and his Big Sinatra Band.
Friends of Santa Claus, Inc. kept the celebration going on Saturday by hosting a tasty luncheon for 1,100 guests, beautiful designer Christmas trees, fabulous boutiques, live and silent auction, and the spectacular Macy's Fashion Extravaganza.
Proceeds from the record-breaking 2019 Christmas Tree Lane will benefit Santa Claus, Inc. and Yes! in 2020.
Fundraising for Santa Claus, Inc. began in 1952, with the first Christmas Tree Lane event being hosted in 1962. In recent years increased need for services throughout the Inland Empire necessitated the creation of a separate non-profit corporation with the sole purpose of focusing on fundraising for Santa Claus, Inc. "Friends of Santa Claus, Inc." was formed in 2013 to serve this purpose. Christmas Tree Lane is
planned and implemented by Friends of Santa Claus, Inc which is a private 501(c)(3) non-profit. The proceeds benefit the tens of thousands of children served by Santa Claus Inc. of Greater San Bernardino.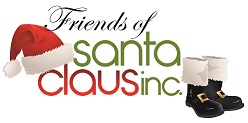 A 503(C)3 non-profit corporation, Tax ID 46-3711322