Santa Claus, Inc. and Youth Enrichment Services Program Volunteers: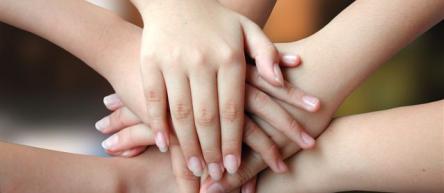 Santa Claus, Inc. and its Youth Enrichment Services (Yes!) year-round program is truly unique for many reasons. Its volunteer base is very unique in the world of nonprofits. With just two full time and two part time employees, 98% percent of those working at Santa Claus, Inc./Yes!, serving over 100,000 children each year, are volunteers. There are many hundreds of volunteers giving thousands of valuable hours each year. Most of these individuals are from local communities, but others serve the organization from as far away as Arizona, Florida and New York. Volunteers come from every ethnic, religious, and financial background, Santa Claus, Inc./Yes! volunteers work together as teams to bring joy to tens of thousands of children in families who are living in dire circumstances.
The mission of Santa Claus, Inc. is to provide critical services to youth in the Inland Empire by empowering families through year-round and seasonal programs.
Santa Claus Inc. has been rated as a top non-profit in the greater San Bernardino area for the past four years by
GreatNonProfits.org
We invite you to read the great reviews and take a look at the pictures of Santa Claus, Inc./Youth Enrichment Services (Yes!). We also ask you to write a review to help us to become a top nonprofit in 2018. Just click on the link below http://greatnonprofits.org/organizations/city/SAN%20BERNARDINO/CA/zipcod...
CLICK HERE FOR GOOGLE MAP AND DIRECTIONS TO OUR LOCATION

The Santa Claus, Inc. and Youth Enrichment Services (Yes!) volunteers make magic happen 365 days a year! With an army of approximately 2,000 volunteers nationwide and a core group of 50 to 100 working every week at the SCI workshop, Santa Claus, Inc./Youth Enrichment Services (Yes!) pulls off the impossible! Without our valuable volunteers Santa Claus, Inc. and its Youth Enrichment Services program would not exist.

Santa Claus, Inc./Yes! volunteers enjoy a unique responsibility. They join hands with parents, schools, county agencies, hospitals, and other nonprofits to make sure that love and a caring spirit are present in the lives of children. This loving spirit helps children to identify with the community, to realize their value, and to recognize that they too can help others.

In order to help many thousands of kids year after year, month after month, and day after day, experienced volunteers diligently search for new toys, books, shoes, hygiene items, clothing, school supplies, infant necessities, and many other items all year long. These are the things that boys and girls would likely go without if not for the generosity of our programs. Countless volunteer hours of research and negotiating deals goes into the year-round efforts that have made Santa Claus, Inc./Yes! the Inland Empire's oldest and largest children's non-profit charity of its kind.

Santa's elves are prudent and diligent shoppers. They seek out overstocks or discontinued inventories and ask for donations and deep discounts when making volume purchases. As deals are made, trucks and vans loaded with clothing and new toys begin arriving at Santa's Workshop. Upon arrival thousands of boxes of inventory are sorted, cataloged, inventoried, and stored in Santa Claus, Inc.'s secure cargo containers. Volunteer elves scamper to keep up with the work required to get ready to help tens of thousands of kids throughout the year. There is never time for cobwebs to grow at the Santa Claus, Inc./Youth Enrichment Services Workshop.
Our volunteers are 100% committed to helping children in need!
Here's How you can help support our mission:
Youth Enrichment Services (Yes!) year-round program
Donate new clothing and shoes of all sizes

Donate new toys and books

Donate personal hygiene items

Donate infant necessities

Donate items for birthday bags, Belongings bags, and camp bags

Volunteer in Outreach Department

Volunteer during various distributions throughout the year
Christmas Distribution Infant department
Needs machine quilters (there are many quilt tops ready to be made into quilts)

Donate Hand crafted or new clothing, (sweaters, etc.) toys, bibs, booties, toys

Donate books and magazines

Volunteer in the infant department

Do a special "drive" for infant clothing at your place of business or an event.
Christmas Distribution Clothing Department
Donate hand crafted or new children's clothing

Donate funds specifically to purchase types of clothing (i.e. coats, larger sizes, etc.)

Volunteer as a packager

Volunteer as a stocker during distribution

Do a special "children's clothing drive" at your place of business or an event.
Christmas Distribution Doll Department
Donate new or used dolls

Donate hand crafter or new doll clothing

Donate funds to purchase dolls

Volunteer in the doll department
Christmas Distribution Toy Department
Donate hand crafted or new toys

Donate funds to purchase toys

Volunteer as a packer

Volunteer as a stocker during distribution

Do a special "toy drive" at your place of business or an event.

Donate smoothly sanded toys, blocks, and jewelry style boxes for older children
Christmas Distribution New Book Department
Purchase new books or have a "book drive" at your place of business or an event.

Volunteer in the book department
Christmas Distribution Used Book Department
Donate used books and magazines so our parents will find something for themselves at Santa Claus, Inc.

Volunteer in the used book department
Christmas Distribution Knitting Department
Knit and crochet sweaters, booties, hats, ponchos, and more

Volunteer in the knitting department
Christmas Distribution Quilting Department
Donate material

Donate batting

Machine or hand quilt

Crochet afghans

Donate fleece for fleece tied blankets

donate hand crafted fleece tied blankets


IRS 501(C)(3) Determination Letter
Here's how companies and local businesses can help:
Companies may recruit employees to participate in our Corporate Volunteer Program and assist Santa Claus, Inc./Youth Enrichment Services (Yes!) to deliver joy at Christmastime and throughout the year.
Donors can assist Santa Claus, Inc. with direct program funding - to any of our current and expanding programs including Youth Enrichment Services (Yes!)
Companies can become Christmas Tree Lane Sponsors, presented by the "Friend's of Santa Claus Inc, the major yearly fundraising event to help support Santa Claus Incorporated of Greater San Bernardino.
Individuals and companies alike can donate to our Match Program where every dollar donated is matched with a minimum ratio of 20 to 1. For every dollar donated Santa Claus, Inc. is able to purchase up to $20 of new toys and clothing.
Companies, and service clubs can implement drives for clothing, coats, toys, socks and underwear, books, and supplies

Consider Planned Giving

Advanced estate planning techniques are available for people who have strong charitable intent and are willing to give to help San Bernardino's oldest children's charity. The use of strategic planned gifts may not only preserve assets for your heirs but also avoid estate and capital gains taxes. Charitable gifts to Santa Claus Incorporated of Greater San Bernardino may be an appropriate addition to your estate plan. Please contact

Kathleen Albrektson

, a trusted Santa Claus Inc. partner and friend, to help you find out how to do your planned giving at

http://www.albshulaw.com/