Our Mission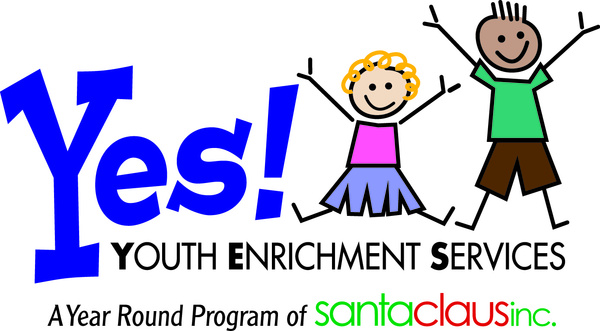 The mission of Santa Claus, Inc. is to provide critical services to youth in the Inland Empire by empowering families through year-round and seasonal programs.
Santa Claus, Inc. has served impoverished and vulnerable children of the Inland Empire for over 68 years. Since Santa Claus, Inc.'s inception in 1952 its goal has been to bring essential tangible items to children living in low-income circumstances - from clothing, shoes, undergarments, blankets, and toiletries to backpacks, school supplies, books, and toys.
Youth Enrichment Services
Y
es
!
provides year round services under the umbrella of Santa Claus, Inc. Significantly touching the lives of over 150,000 children annually, Santa Claus, Inc.'s YES! programs are vital to children throughout the Inland Empire. YES! touches the lives of youth in our most impoverished communities in ways that help enrich and improve the quality of each child's life. Youth Enrichment Services says "YES we do, YES we will, YES we can" in times of greatest need in the lives of children.
Youth Enrichment Services Yes!
is the year round program of:

Santa Claus, Inc. of Greater San Bernardino through its Youth Enrichment Services (YES!) helps to alleviate need and distress for children and their families 12 months a year. Hundreds of dedicated volunteers and a staff of one full time and 2 part time employees work diligently to help children thrive, to stay in school and to become the best they can be. Youth Enrichment Services - Yes! brings support, care, hope, joy, dignity, and community to families throughout the Inland Empire.
Santa Claus, Inc. needs volunteers.
CLICK Here to sign up
From its beginning in 1952 Santa Claus, Inc. has adhered to the same mission. Critical assistance began in the early years with gently used and refurbished toys and clean used clothing. Critical assistance in 2020 will assure that over 150,000 children will receive stylish and trendy new clothing, shoes, popular toys, books, handmade quilts and blankets, and essential personal and hygiene items at Christmas and throughout the year.
Santa Claus, Inc., through its Yes! programs has expanded its borders to include several additional cities since the early days, now working to help underprivileged children in the high desert, mountain communities, Ontario/Montclair, Fontana, Rialto, Colton, Highland/Redlands, San Bernardino, Yucaipa/Calimesa school districts and Riverside County school districts.
Yes! accesses more than enough inventory to help a minimum of 150,000 kids with basic and essential needs all year round. This access has allowed Santa Claus, Inc. to expand to a much higher level of service. The year round Yes! program is thriving and working hard through year ASAP, Adopt a School, Belongings, Birthdays in a Bag, and its once yearly Christmas Distribution.
Y

es

! is a year round program


In keeping with our mission statement Santa Claus, Inc. supports vital year round

Youth Enrichment Services - Y

es

!serving over 150,000 children!

CLICK HERE FOR DIRECTIONS TO THE SCI WORKSHOP AND GOOGLE MAP

Y

es

! is a year round program

developed at Santa Claus, Inc. to support the urgent needs of children throughout the communities we serve.

Here are our YouTube videos - Please watch them