Our History
Santa Claus, Inc. was established in 1952 by Mrs. Mignon Schweitzer, with the idea of shopping for free at Santa's "Christmas Workshop" in mind. Organizations and individuals contributed money and materials to stock the store. The children knew nothing about the Santa Claus operations. Parents' names came from social service agencies. They were invited to come to the "Christmas Workshop" to select gifts they would like to give to their children. This wonderful new plan was designed by Mrs. Schweitzer to bring Christmas directly into the home; thereby alleviating the public presentation of gifts or scrambling by youngsters at public Christmas trees to fulfill their Christmas dreams. The brand new Santa Claus, Inc. was modeled after programs in Redlands, California and Denver, Colorado.

Santa Claus, Inc. has always been a community project. The idea was presented to every organization throughout the San Bernardino community. Eventually 200 organizations and thousands of volunteers countrywide joined the effort. In the first year 1,483 children were served over a four day period. The program was developed to protect the pride of parents who might otherwise be embarrassed by articles being delivered into their homes by "well-meaning" charity organizations or having to stand in lines along the street to receive items for their children. The early organizers wanted to remove the stigma of parents clamoring for gifts for their children in public settings.

In describing those who helped make the Christmas distribution possible - it was nearly everybody throughout the community. Bankers, lawyers, merchants, doctors, teachers, salesmen, the poor, the rich, and people of many faiths, beliefs and philosophies - all joining together to provide Christmas to even more needy children by 1953.

Santa Claus, Inc., with its first set of by-laws, incorporated as a non-profit in 1957. The original mission was "to encourage and coordinate all efforts and activities in connection with Christmas giving which shall preserve the dignity of the family." The mission, while re-worded over the years, remains the same today.

Mrs. Seymour Schweitzer was the head of the Family and Child Division of the City Social Planning Council of San Bernardino and the Chairman of the Community Chest (a forerunner of United Way). She became the first president of the new Santa Claus, Inc. It was originally sponsored by the Social Planning Council, Inter-Service Club Council, San Bernardino PTA Council, the Council of Churches, and the San Bernardino Community Chest.

Mrs. Schweitzer once quoted Phillip Brooks: "It's a good feeling to know that in our city no palace is too great nor any cottage too small for the spirit of Christmas to enter (The Daily Sun, 29 December 1953). She went on to say that "gifts are given in such a thoughtful manner that the youngsters do not feel any different from those across the street."

In 1958 Mrs. Schweitzer stated the following the donors, "Only through the wholehearted cooperation of individuals and organizations have nearly 3,800 children retained the Christmas Myth - they still believed in Santa Claus - by receiving gifts of clothing, toys, and candy. These little boys and girls have had a Merry Christmas at home and with their families."

In later years when interviewed by The Sun on the occasion of the 1984 groundbreaking of the new Santa's Workshop at 824 East Sixth Street in San Bernardino, Mrs. Schweitzer told this story: "Although I am of the Jewish faith, my grandfather was German and he always celebrated Christmas. From our home in Beverly Hills we'd go on to his home in Riverside and sing O'Tannenbaum" and all of the other songs, exchange gifts, and have a wonderful time. It was a family gathering that came to mean so much to me.
Mrs. Schweitzer brought the community together to raise $100,000 to build the basic Santa's Workshop on East 6th Street in San Bernardino, which is still in use in 2018. Sitting on City of San Bernardino Water Co. land, in one of the poorest zip codes in the entire United States, the community support has been amazing and the yearly rent payment is still $1.00.
By 1986 Karen DiCarlo had become Mrs. Schweitzer's close protogee, serving 9 years as President of the organization while volunteering for over 27 years. Mrs. DiCarlo became the first paid employee and the first executive director of Santa Claus, Inc. in 2012. She has overseen the organization for over 35 years as it has significantly touched the lives of over
1,000,000
children. Transcending just presents at Christmas time, Santa Claus, Inc. provides something that a child can hold on to and believe in - the knowledge that they are loved. By providing special gifts both at Christmastime and throughout the year through Youth Enrichment Services, Santa Claus, Inc. is a premier nonprofit serving children and families throughout the Inland Empire.
Santa Claus, Inc. gives self-confidence to young children through its vital
year-round programs. The successful Youth Enrichment Services, known as
Y
es
!
provides essential needs, nice clothing, backpacks, coats and school supplies, personal care items, and so much more to make sure children have what they need for school and home. Rated as a gold star, top rated non profit, Santa Claus, Inc. is fulfilling its mission 365 days a year.

Please read more about the Yes! programs here and become involved with us at Santa Claus, Inc.
Consider Planned Giving
Advanced estate planning techniques are available for people who have strong charitable intent and are willing to give to help San Bernardino's oldest children's charity. The use of strategic planned gifts may not only preserve assets for your heirs but also avoid estate and capital gains taxes. Charitable gifts to Santa Claus Incorporated of Greater San Bernardino may be an appropriate addition to your estate plan.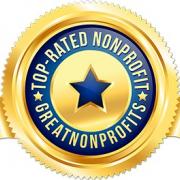 The GreatNonprofits Top-Rated Awards Is the Only People's Choice Award in the Nonprofit Sector.