Sign Up to Volunteer On Site: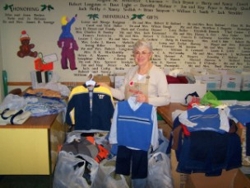 Santa Claus, Inc. has brought joy, smiles, and hope for a brighter day to over 1,000,000 kids over the past 66 years. These selfless acts of kindness touch local families. Bringing hope to the hopeless is possible because of our friendly, respectful, and loving Santa Claus, Inc. volunteers. By prioritizing the parent's dignity Santa Claus, Inc. has found a unique approach to the delivery of its services. Families find no shame in accepting much needed help provided by our well trained volunteers.
Volunteers have a sense of belonging at Santa Claus, Inc. Their commitment is greatly appreciated by the community and the agency. Friendships are made and generations are established. Santa Claus, Inc. boasts four generations of volunteers.
https://santaclausinc.com/volunteer.cfm/mode/application
Santa Claus, Inc. volunteers were chosen as the "2014 Volunteer Group of the Year" by the National Association of Fundraising Professionals for the entire Inland Empire. Since that date many more wonderful, equally dedicated volunteers, have come on board at the Santa Claus, Inc. workshop.
On site volunteers have the opportunity to donate their time by working in many areas:
Youth Enrichment Services (Yes!) works with 50 other nonprofits, schools, churches, social service agencies, and others to provide ongoing necessities, i.e. shoes, backpacks and school supplies, clothing, personal care items, etc. for needy families).
Hospitality (Open House, Volunteer recognition, coordinate distribution meals, etc.)
Forklift Operator and warehouse worker
Data Entry
Inventory
and more
Join our Santa Claus, Inc. volunteers every Wednesday morning from 9:00 a.m. to 12:00 p.m. at our Santa Claus, Inc. workshop, 824 E. Sixth Street, San Bernardino, 92410.
Please
CLICK HERE
to fill out our online application.